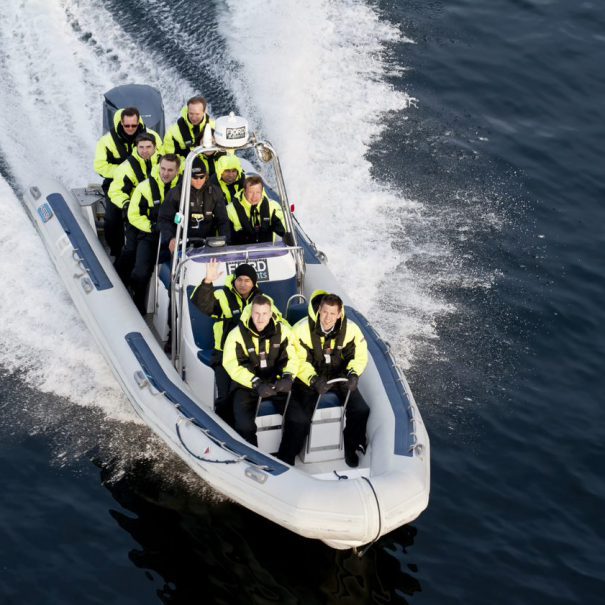 Our classic, the most popular Lysefjord safari. You will explore some amazing glimpses of the raw nature, such as the mysterious Vagabonds cave, the famous Pulpit Rock and the gorgeous waterfalls of Hengjane.
If you prefers your own boat. Are you short on time and our fixed RIB boat departures won't not fit into your plans, we can do an exclusive trip just for you. Let us know your desired time slot and we will check our availability!
Lysefjord Safari Flørli 4444
Join us on a day-trip to Flørli, which boasts the world's longest wooden staircase. Take the long climb up 4,444 steps to the top of the mountainside and take in the spectacular fjord views.
Creating magical moments on the fjords since 2006
"Our goal is to provide local residents and visitors with an opportunity to experience the magnificent nature of the Lysefjord while enjoying the excitement of a safe and authentic RIB boating experience at an affordable price."  
If you have never tried a RIB boat ride in a deep Fjord, we highly encourage you to try.  It will muster a rush of adrenaline and a sense of wellbeing that you might not have experienced for long time.
We strive to provide something truly special, and the response has been tremendous.  People love the tour. They love the combination of a thrill ride mixed with stops in strategic locations. While our experienced guides tell stories about the area you get time for peaceful and unique photo opportunities you can only capture in a RIB boat.  Once you try it, you will probably want to do it again.  We have many repeat visitors.
The response to the experience has been terrific.  We love showing off our amazing nature, tell stories from the past and providing a little bit of happiness to peoples life.
We have 6 RIB boats with 12 seats, a total capacity of 72 persons. The boats are powered by a 350 HP Yamaha V8 engine with a maximum speed of 60 knots! Cruising speed will be within the range of 30-35 knots.
The tours are soft and comfortable, not wild and terrifying, suitable for most people between 4 and 94 years of age.
Welcome aboard!
Simon Gundersen,
General manager
Captain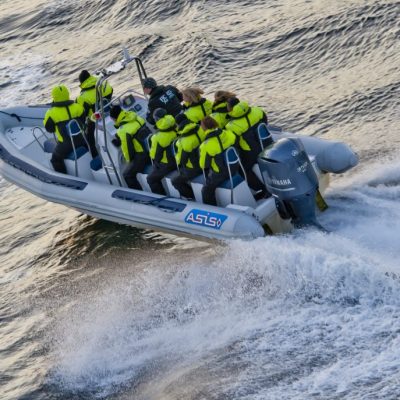 The type of boats we use are called RIB. What is a RIB you say? RIB is short for Rigid Inflatable Boat and is a lightweight, but high-performance boat with a rigid hull joined by side-forming air tubes that are inflated with air. This makes the boat unsinkable as the inflated collar serves as a life jacket. These vessels are stable, fast, light and very seaworthy. They make great tools for exploring the Norwegian fjords.
We use the boats as a fast and fun way to get from Stavanger to the fjords. They also allow us to explore shallow parts of the archipelago and get close up to the hidden gems in the fjord.
Our fleet consists of 6 RIBs. They are built by ASIS Boats and are custom made for the Norwegian conditions – which means they can withstand most of what mother nature has to offer. They all have 12 seats and are mounted with an engine with either 350 HP or 400 HP!
Simon Gundersen
Simon helped his dad build the company from a young age, in the beginning he was only allowed to take the boats out in slow speed to go to the fuel dock and refuel, now he sits at the helm of his family's company. Simon is in charge of everything that happens in the office but still spends most of his time out on the fjord, one hand on the wheel, one hand on the throttle and a big smile on his face.
Q: What to wear on a speed boat ride?
A: All guests will have a personal suit and a life jacket (PFD). The suit is warm, and also wind and water resistant. In heavy weather, we recommend you to bring a hat and a pair of gloves. We will supply goggles in case of bad weather. We recommend hiking shoes, sneakers, sandals, trainers or barefoot. Anything will work but high heels!
Q: Where to meet?
A: The tour starts and ends in the inner central harbour of Stavanger, close to the Fishmarket
Q: What is the age limit?
A: Persons older than 14 years can join the trip without any adults. Kids under the age of 14 need to be accompanied by an adult. Absolute minimum age is 4 years.
Q: Is it dangerous? Is it extreme? Is it very fast?
A: Since we started in 2006, nobody has fallen over board. Our skippers are very skilled and experienced. We will always do our best to give our guests a comfortable and safe experience. The trip is not a fast-going-extreme ride, but a soft adventure. We have a cruising speed of 30-35 knots (65 km/h). The trip will always be carefully adjusted according to the weather conditions, and the needs and comfort of the passengers.
Q: What if someone is pregnant or have back pain or other medical issues?
A: The skipper will advise you if you have medical issues. The seats are very soft and the back section of the boat is more calm and comfortable than the bow section. The trip will mostly be conducted in calm waters. Be aware of your own limits!